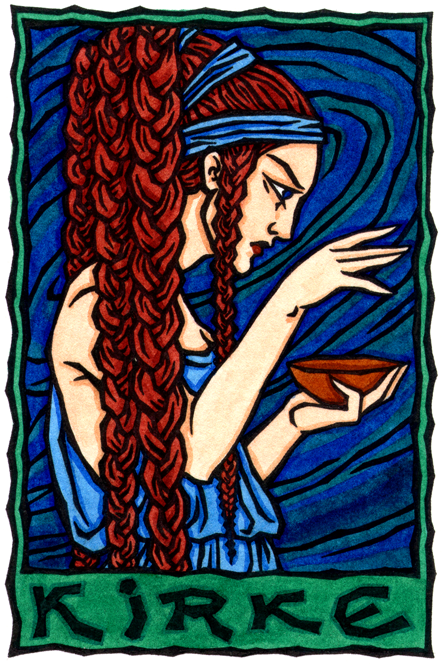 I hold open the gate to darkness.

Kirke of ancient Greek legend is the daughter of Helios, the sun, and the sister of Aeëtes and Pasiphaë, the mother of Ariadne. Other accounts call Her the daughter of Hekate and sister of Medea. Her legend says She was originally from Kolkhis on the Black Sea, but fled after poisoning Her Scythian husband to take up residence in the west on the Island of Aeaea.
Kirke is a great enchantress famous for Her knowledge of herbs, magical spells and dark enchantments. She is especially known for spells of transformation: She changed the beautiful nymph Skylla into a sea-monster because She was jealous of Her; Picus, who refused Her love, She turned into a woodpecker; and any mortal visitors to Her island were transformed into wild beasts. When Odysseus and his men stopped at Her island on the long way home from the Trojan War, the landing-party were turned into swine. With the help of the magical herb moly given to him by Hermes, Odysseus forced Her to break the spell.
Afterwards She helped Odysseus, and he and his men stayed on Her island for a year--some say She even bore him three sons. Before he finally left, She advised him well, telling him how to consult the dead seer Tiresias, and how to avoid certain dangers on his road home. Some even say that in the end, Odysseus returned to Kirke's isle and became Her husband.
This card indicates great powers of transformation are within you. You can use it to denigrate others or to transform your own life for the better; it is your choice to make, so choose well.
Alternate spellings: Circe
Epithets: Odysseus calls Her "Loveliest of All Immortals," "Dire Beauty and Divine"
For the (unexpectedly sweet) take on Her tale, go here.
This design is available on prints through ArtPal.