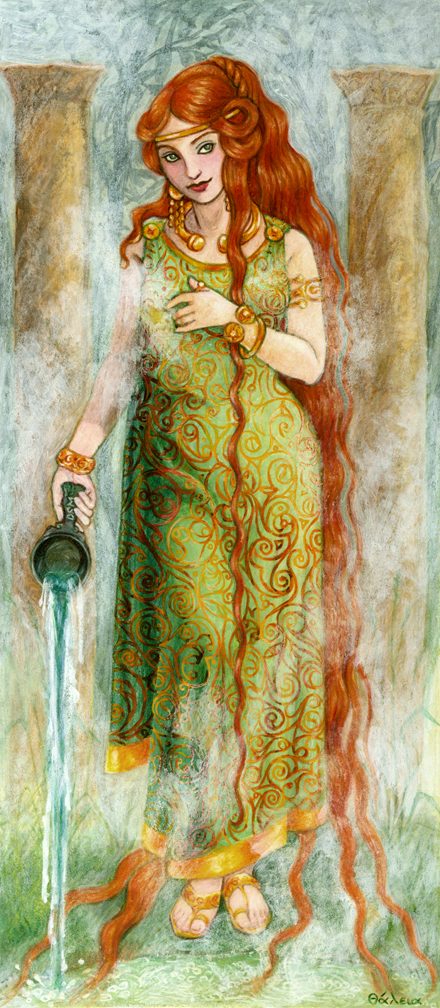 The Goddess of the hot springs at Bath, England (the only hot springs in Britain), Sulis's name come from a root meaning "eye" or "gap", referring both to the spring from where half a million gallons of hot water still well up every day, as well as to Her powers as seeress.
Her hot spring has been renowned for its healing powers since ancient times, and when the Romans arrived in Britain they built a bath complex around the spring, and named the place Aquae Sulis ("the Waters of Sulis"). Pilgrims came from mainland Europe to bathe in the therapeutic waters, and references to Sulis are known from as far away as Germany.
The Romans equated Sulis with their Minerva, and so She was known to them as Sulis Minerva--which is somewhat unusual, since the Romans generally used the native Celtic deity name after the Roman name. This is taken as an indication of Her importance and fame.
Though famous for healing, Sulis could curse as well as cure, and in Bath many "curse tablets" have been found, asking Her to punish people suspected of wrongdoing.
She is shown here with one of the small offering-pans dedicated to Her by worshippers which were found at the site of Bath; they were usually inscribe "DSM", short for the Latin Dea Sulis Minerva, "to the Goddess Sulis Minerva". Her dress is the same milky greeny-grey as the water of the springs, and Her hair is the bright orange of the deposits left by the mineral-rich waters.
This design is available on prints at deviantArt and on greeting cards at Zazzle.